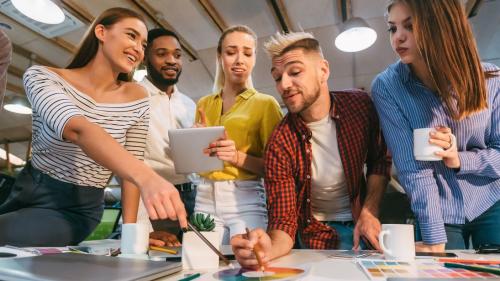 Are There Benefits To Rebranding?
As a business owner, you understand how important it is to develop your brand and stand out from your competition. Perhaps you've been in business for a while and feel that your branding is outdated, or maybe you're launching a new product or service and want to create a new identity. Whatever the reason, rebranding can offer numerous benefits for your business.

Attracting New Customers
One of the primary benefits of rebranding is that it can help you attract new customers. By updating your brand's image, messaging, and marketing materials, you can capture the attention of people who may not have previously considered your business. With the help of a marketing agency, you can identify your target audience and together create a brand identity that resonates with them.

Differentiating Yourself From Competitors
If you're operating in a crowded marketplace, rebranding can help you stand out from your competitors. By creating a unique brand identity and messaging that sets you apart, you can position your business as a leader in your industry. A marketing agency is able to conduct a competitive analysis and develop a brand strategy that emphasizes your unique selling proposition.

Reflecting Changes In Your Business
Businesses evolve over time, and your branding should evolve with them. If you've changed your products, services, or target audience, your branding may no longer be relevant. Oftentimes a marketing agency can conduct a brand audit. This will allow them to help in developing a rebranding strategy that best reflects your business.

Boosting Brand Awareness
We all strive to generate buzz and increase brand awareness. By creating a new visual identity and messaging, you can capture the attention of your audience and generate interest in your brand. Leveraging various marketing channels to maximize your reach and engagement is typically a great area where professional marketers can be of extreme help.

Increasing Brand Loyalty
A strong brand creates a sense of loyalty among customers. Rebranding can help you strengthen that bond by refreshing your brand's image and messaging. By creating a brand identity that resonates with your customers, you can foster a deeper connection with them.

If you're considering rebranding your business, adirectly® can help you surpass your goals. From conducting a brand audit to developing a rebranding strategy and executing a marketing campaign, our professionals provide the expertise and resources you need to succeed. Let us help you reimagine your brand in ways you never thought possible.